Several of our members have reported receiving postcards like the one below, referencing an "important matter" regarding their mortgage and urging them to call a number for follow up: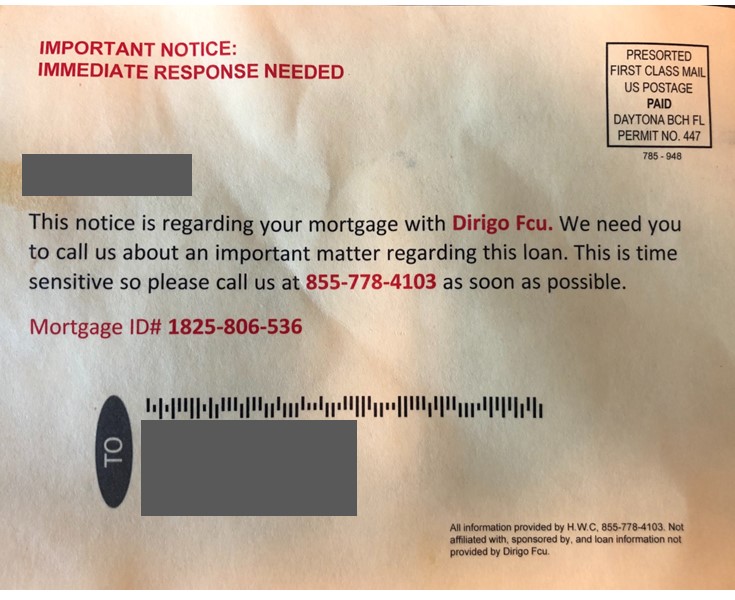 This is a scam. These postcards were not sent by Dirigo FCU, and Dirigo FCU will never reference or ask for sensitive information through a postcard, email or over the phone.
Often times, scammers will pull what's called the "phantom help" maneuver, where they'll encourage you to reduce or even stop your mortgage payments while they work to lessen your costs (for a moderate fee, of course). Unfortunately, by the time you realize you're being taken advantage of, the phantom helper is long gone.
So how do scammers collect your information and pose as Dirigo FCU? Many records become public information after you move or close on a house. That means that any interested party may be able to access details about the mortgage lender, the borrower, the loan amount, the mortgage number and the property address through public records. After fraudsters have this information, it makes it easier for them to approach you pretending to represent us, or claiming to have important business that may look legitimate on its face.
Dirigo FCU has many security measures and fraud prevention tools to keep you safe, but we can't control every scam attempt that reaches your mailbox or inbox. It's important to be aware and ready to identify a scam attempt, so if you are suspicious of any materials that claim to represent Dirigo FCU, please contact us immediately at 784-5435 or by sending us a general inquiry before taking any action.
The Federal Trade Commission also has many great resources for filing complaints, reporting fraud and learning safety tips.
Again, we will never ask you to provide sensitive information—or disclose any portion of your financial information or account details—over the phone or by mail.